| | |
| --- | --- |
| | What's New |




Garden Supply
123 Main Street
Anytown, NY 20317
USA
(212) 555-4321
(212) 555-1234 fax

Send Us

E-mail

© Copyright 2011
Garden Supply
powered by Website2Go.com
All Rights Reserved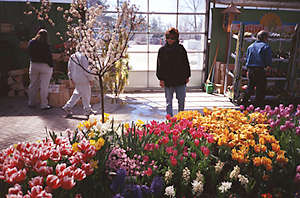 Our Islands of Savings Celebration
This summer, redeem the Island Dollars you earned with purchases in March. We'll also have lots of great specials in every department to help you fill any holes in your garden or spruce it up for summer entertaining! Read on for details, then stop in to take advantage of these and other unadvertised specials in every department.

Are the leaves on your favorite plant turning brown or looking like Swiss cheese? Do you have lawn questions? Need advice on the right plant to put in a difficult spot? Just ask. Our pros will be happy to help with your gardening questions. At the Main Street East store, look for us at our "Gardening Solutions" gazebo. At our Main Street West store, just ask any of our staff for help.

Helpful Hint: If you need help diagnosing a plant problem or identifying a plant, bring us a sample. If a picture is worth a thousand words, the real thing is worth a million!

It's been a very dry spring, following on the heels of a very dry summer last year. Occasional rains are helping a little, but only a little. New plantings and plants stressed by lack of water last year are especially vulnerable to disease and insect damage. Water at least an inch per week if we don't get the equivalent rainfall.





Garden Supplies
Islands of Savings Specials- All garden supplies are 10% off - this is a great time to stock up on potting soils, mulch, tools, fertilizers and pots.

Ed Jones is Garden Supply's 'Tool Man'. Ed has dispensed gardening advice to customers at our Main Street store for 35 years. Our tool buyer for all of his years, Ed's "Top Ten Tool Picks" are: (1) Long Reach Pruner, (2) Spear & Jackson Spade Fork, (3) Compost Fork, (4) Ames 4-tined Cultivator, (5) Terra Verde Bypass Lopper, (6) #4 Felco Pruning Shears, (7) Tools of Maine Trowel, (8) Garden Claw, (9) Sherman Adjustable Spray Nozzle and (10) Dramm 30" Colormark Water Wand. Whether you're just starting to acquire a set of gardening tools, looking for the perfect addition for your arsenal, Ed's list is a great place to start.

Garden Supply is working to offer you more EarthWise gardening products - products that are safer for both you and the environment. Look for EarthWise pest control products on the green shelves in both stores. Try these new products: Concern Pesticide Spray Oil , a dormant oil spray that smothers insects with vegetable oil rather than petroleum products; and Concern Mosquito Barrier, a garlic-based spray that keeps blood-suckers at bay. Also new this year: Corn Gluten Weed Preventer , made from a corn meal byproduct. It works by inhibiting the growth of seeds' tiny feeder roots, so seeds germinate, but then die before they get established. It does not affect already established plants. And to control flying insects, ants, roaches, wasps, hornets and yellow jackets, try Victor Poison Free Insect Killers, using mint oil. Also in Stock: Lady beetles and baby praying mantids. Release these beneficial insects in your garden to control aphids and other bad bugs.

Our "EarthWise" hats have arrived! Be the first one on your block to have one. Not only do they look great, but we are proud to say that a portion of the proceeds will go to the National Audubon Society. Our "EarthWise" commitment is to help promote a greener environment for the future.





Shrubs and Trees
Islands of Savings Specials 20% off ornamental grasses, aquatic plants, buddleia (butterfly bush), dwarf conifers, yews, dogwoods, oak, red maples, flowering cherry, Cleveland select pear and Thunderbird Plums in 15 gallon containers.

Just Arrived: Crape Myrtles are in and beginning to bloom - we have a great selection of varieties suited to our area.

Nursery Managers Special July 1 - 18. The following plants are 20% off: Euonymus "Emerald n'Gold" 2 and 3 gallon size, Azaleas, Rhododendrons. Also on special for 30% off: All Roses, Potentilla, Quince, Lilacs, Deutzia, Spriraea, Erica, Calluna, Grapes, Blueberries, Raspberries, Fruit Trees, Fig Trees and Deciduous Magnolias (except Sweetbay). The following are 40% off: Goldflame Honeysuckle, Pussywillows, Calycanthus, Weigelia, Winter Jasmin, Red and Yellow Twig Dogwoods. The plants are only on sale at the Main Street East location and only while supplies last. Look for more specials during Islands of Savings Days.

Plants in Bloom: Butterfly bush, hibiscus - Diana Aphrodite and Bluebird, hypericum (St. John's Wort).

Now In: Tropical plants are hot this season. Give your garden a tropical feel with one or more of these tropical plants - Hibiscus in bush and tree forms, Mandevilla, Dipladenia, Potato Bush, Oleander, Bananas, Gardenias, Passion Vines, Allamanda, Ixora, Blue and white Plumbago, Datura and more... Tibouchina, with beautiful purple flowers and soft grey-green leaves is coming into bloom.

Aquatic plants. Water lilies are now blooming. Water irises, regularly $12.99, are $7.99 while supplies last.

Backyard ponds are definitely "in" this year. All it takes is a basin, a pump and an electric source. Check us out for ideas on creating your own pond or water feature.

Check out our huge selection of hydrangeas - lacecap, macrophylla, and oakleaf, too numerous to list.





Gifts and Garden Accessories
Islands of Savings Specials - Save 10% on all gift items.

Get Cooking with Garden Supply - Just in time for lazy summer picnics and summer entertainment, our new cookbook by our staff and family. All proceeds benefit the Carol Jean Cancer Foundation's Camp Friendship. (sale prices and discounts do not apply).

Make your garden special with a distinctive piece of furniture or decorative element from Atmosphere. These beautiful one-of-a-kind pieces made from old architectural elements will add a beautiful finish to your garden.

Add a garden ornament to give your garden a finished look or add an unexpected bit of whimsy. We have garden sculptures and pot sticks to fit any taste.

Check out our new "EarthWise" 100% cotton t-shirts, garden aprons and hats in natural beige and green.

The gift shops at both stores are brimming with great new pots; sculptures big and small in wood, wire and concrete; picture frames; distinctive candle holders; carved flower arrangements and wreaths, and more. It's worth a browse at both stores, since each carries some different items, and even the same items displayed differently may catch your eye at one place more than the other.

Check out our selection of table top fountains, unusual wind harps and wind chimes, stationery and note cards, candles, beautiful baskets and pottery for the perfect gift for yourself or someone else.





Greenhouse
Islands of Savings Specials - Check each store for specials on hibiscus, tropicals and other indoor plants.

Houseplants can add great visual interest to your outdoor living spaces. Spider plants, purple wandering jew, zebra plant and dracenas (ribbon, tri-color, baby doll) provide color, texture and depth when added to your pots with annuals. Remember to plant in the optimum light requirement. Fertilize regularly at half the strength of the listed quantity of fertilizer. Suggestions: Easy trailing plants to cascade over the pot edges: Ficus repens, tradescantias, loya. Bushier plants for fillers or background: dieffenbachia, ficus and dracenas. Climbers for topiary pots: ficus repens or ledera lelix. Questions? Stop by the greenhouse at either store and let us help you pick some great plants for your pots.

Bring the outdoors inside during the hot muggy days of summer with orchids and other flowering houseplants. We have a great selection to brighten up your home.





Bedding Plants
Islands of Savings Specials - Save 20% on all flowering annuals and perennials. (Does not apply to items on sale.)

Annuals in 4" pots are now $1.25 each - a great opportunity to fill in any holes in your garden.

Just Arrived: huge perennials in two gallon pots - liatris coreopsis, veronica, homestead verbena, black eyed susans, autumn joy sedums and much more....

Just Arrived: a great selection of bright and cheery annuals in 6" pots, perfect for instant displays in your garden.